For God's sake- Not the Trillium!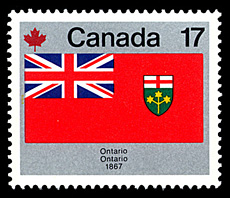 Have just read about attempts by Ontario's premier to change the 'trillium', apparently Ontario's main 'logo' for the past 30 years. I've just seen pictures of it, and I must say I don't recall ever having seen it before, so it can't have been that useful a symbol, and certainly doesn't inspire any enthusiasm from within my breast. But I do feel the passion rousing inside me when I hear of some non-entity recently (and no doubt briefly) in a position of influence deciding his ego demands tampering with the culture of generations of his fellow citizens. I know how angry I was to find out the coat of arms had been changed to the current hideous design.
At least there is one piece of good news. The premier has stated that he has no intention of altering Ontario's flag, admitting that "if you think the logo can create controversy," changing the traditional red ensign would spark widespread outrage."
Can't see the comments?
If you are unable to see the comments, your browser may have javascript turned off or may not support javascript. Check your security settings. Otherwise you can
click here
to access to comments in regular HTML from the TheirSay! Comment Server.