A Birthday Card for Her Majesty

80 REASONS TO BE LOYAL AND HONOUR THE QUEEN
WORD OF CAUTION
: TO BE READ BY REPUBLICAN MISFITS, FEEBLE HOSTILES AND PREENING MALCONTENTS AT THEIR OWN PERIL. I AM REMORSELESSLY PRONE TO RAPTUROUS THUNDER AND
DEMENTED EXTRAVAGANCE
ON SUCH OCCASIONS. YOU'VE BEEN FOREWARNED.
______________
I declare before you that my whole life, whether it be long or short, shall be devoted to your service and the service of the great Imperial Commonwealth to which we all belong.
- Elizabeth Windsor on her 21st Birthday, April 21, 1947.
TO THE QUEEN'S MOST EXCELLENT MAJESTY
May it Please Your Majesty, Most Sacred and Gracious Sovereign: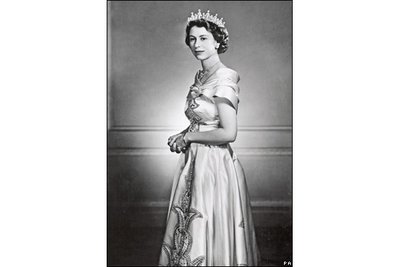 WE, Your Majesty's affectionate, patriotic and loyal subjects, peopled over the Earth's palm and pine, from all parts of your ancient lands, sovereign territories and ample dominions, separated by nations strong, independent, prosperous and free, yet fraternally united under one glorious Commonwealth Kingdom, joyfully extend to Your Majesty, on this momentous occasion, a very happy 80th birthday.
Madam, we can think of 80 reasons to celebrate and honour you on your birthday. This year marks the fifty-fourth of your reign. Through it all, you have conducted yourself with unrequited grace(1), dignity(2) and duty(3) to all your peoples, and for that we congratulate and salute you. You have been unfailingly poised and devoted(4), respectful(5), kind(6) and loyal(7) throughout a lifetime of public service(8), even when such attributes have been less than fully reciprocated(9).
We give thanks to your example as a defiantly ordinary(10), genuine(11) and modest(12) person, and for having nothing in common, apart from your obvious fame, with our debased, celebrity-crazed culture(13). You have been an outstanding model of humility(14), civility(15), discreteness(16) and authenticity(17) in a deprived world – an antidote, if you will, to all that is fake, mean, selfish and contemptible(18). In this,
for succeeding in being yourself
, Your Majesty has kept open the path to true reverence(19).
You are the symbol of all that is good(20), and decent(21), and stable(22) in our tradition. Your Majesty is a human link(23) at the end of a proud history(24) and ancient heritage(25), stretching back several centuries, even millennia(26). You exemplify permanence(27) and continuity(28) in a changing world, a rock in the fleeting midst of time. Trends pass; movements wither; institutions reform; fashions go out of style; governments fall; politicians come and go; rock stars become knights…every silly season returns to nature, as each modern era, in turn, gets replaced by another – yet, through it all, you remain(29). We smiled over the decades as the priesthood of modernity proclaimed your irrelevance, only to watch their own relevancy, in due course, wilt under the steel of your steadfastness and stiff upper lip(30). We commend you for your calm(31), for continuously
confounding your enemies
, and for ignoring the fashionable desires of feeble men.
For it is the immortality of Your Majesty's Crown that inspires us(32). You are the link in the chain of eternity that connects the present to generations past and future(33). The Crown and all that you represent is a glorious treasure to be held in trust and preserved forever. It is stupefying why any in today's generation would not wish this, why they would declare your permanence, outdated; your functions of state, useless; your royal person, irrelevant. It is stupefying because you are undeniably, unavoidably and inextricably at the centre and forefront of national life(34). The whole constitution and apparatus of government operates solely under your authority and in your name(35). We respect you because you are the People's Sovereign, because you exercise authority and responsibility over power, because you reign out of a selfless sense of duty, not rule out of an inflated sense of ambition(36). We firmly hold that a people's respect in a democratic age can never be outdated, useless or irrelevant(37).
Your Majesty is nonetheless more than an influential figurehead(38) - you are the world's most experienced statesperson(39), universally admired abroad(40) and, when it truly matters, reservedly powerful at home(41). Under extraordinary circumstances, you can withhold Royal Assent, dismiss Prime Ministers and dissolve Parliament, a prerogative reinforced by historical precedence within your own lifetime: recall the sacking of Canadian Prime Minister McKenzie-King in 1926, or Australian Prime Minister Gough Whitlam in 1975, both of whom challenged the Crown's authority to their own political peril. Just ask British Prime Minister Tony Blair what happened last year when you wisely counseled him over the government's plans to pursue further integration under a European Constitution; how it could violate your oath and encumber your ability to carry out your solemn responsibilities, in which you swore to "govern the Peoples of the United Kingdom… according to
their respective laws and customs
"(42). [Emphasis added]. It is joyfully clear to us, Madam, that you take your vows seriously(43), that when push comes to shove, you are the ultimate guardian of our freedoms(44), rights(45) and values(46), the embodiment of our unity(47), independence(48) and sovereignty(49), above politics(50), answerable only to God and your own conscience(51). For this, we salute you, and place our trust.
For 54 remarkable years, you have faithfully abided by your coronation oath, you have kept your promises(52). It is amazing how in all that time, we cannot think of a single occasion – not one - in which you, your royal self, put a foot wrong or said anything that might damage the reputation of the institution that you represent in any way, shape or form(53). In all that time, you have upheld the beauty(54), splendor(55) and sanctity(56) of your Throne, and for that, we admire you. It is also amazing how the religiously ignorant go on about the separation of Church and State with mindless ferocity, evidently oblivious that you head the Church and personify the State(57). They forget that you were more than just democratically confirmed, recognized and proclaimed Queen Regnant by all your Parliaments(58). Your Majesty is, by law, the Defender of the Faith(59). You are a Christian Prince, who sat upon the Stone of Scone, the stone of destiny. You were enthroned upon King Edward's chair, the great seat of the Anglo-Saxon Saint and Confessor. You were anointed with holy oil, hallowed and consecrated unto God(60). You were crowned, acclaimed, and accepted, by right of blood succession(61) –
you were lifted up above us "by the power, authority and ordinance of Almighty God"(62). For that, we praise you, and Praise God.
For the believing, your person is sacred and inviolable. For the less believing, you represent the myth and fairy tale, but most, by and large, measure their belief in what you do, how you show up every day and, without fuss, do the work(63), even well after the age of permanent retirement(64). You bring us together in ceremony and national remembrance; you commission countless edifices, commemorate anniversaries and celebrate achievement(65). You recognize and pay tribute to our bravery and heroism, our volunteerism, our distinguished service and good works(66). With pomp and pageantry, you lift us out of the drudgery of administration and process, out of the seemingly pointless utilitarianism of our detached lives(67). You unite us like a family. You are bonded to your people, and we to you in language, law, history, culture, institutions and love of our shared Queen(68).
We are also united by what you are not, Madam. As columnist
Elizabeth Nickson
put it: You and your family are not movie stars, you are not extra smart, you are not "special"(69)…you
represent the values of ordinary middle-class families all over the world, who are restrained(70), sensible(71), kind, practical(72), steadfast, penny-pinching(73), punctual(74), dutiful, charitable(75), trustworthy(76) and good. These are the values we must celebrate and promote, because these are the values, and no others, that make our lives possible(77); not the awful cor'uptions of Hollywood(78) or the "I'm so clever I must run your life" egomania of [politicians](79). That's why we must keep the Windsors in perpetuity.
That's why by ridding ourselves of Your Majesty and all that you represent, we would be forsaking one of our last great role models in the world, one who embodies the mainstream values of our culture upon which our free and virtuous society depends(80).
And so because you are our Queen, and because you are virtuous, Your Majesty, on your 80th birthday, we, and your peoples around the world salute you.
With True Allegiance and Undying Affection, We Have the Honour to be,
Your Majesty's Most Loyal and Humble Servants.
LONG LIVE THE QUEEN!